Prix ​​habituel
Prix ​​en promotion
$8.89
Prix ​​unitaire
par
Promo
Sold out
Flowery Paw-Tea
Discover our Paw-Tea's, delicious and nutritious dried flower mix for your rabbit. Created in 2018, our range of Paw-Tea's has met with great success. Because they too are impatiently waiting for tea time!

Comprised of carefully selected high quality flowers , our blends provide a variety of benefits for the health and well-being of our companions.
These mixtures of dried flowers can be distributed as treats to your rabbit at the rate of 2 tablespoons per week, perfect for Bonding * directly in your hand, in a cup , in a toy , directly on his hay or, on a carpet to stimulate him mentally for a while (Excavation mats: to come on the shop)

* Bonding: Develop a solid and deep relationship with your rabbit thanks to bonding, or "reinforcement of links" in French. This special practice will allow you to forge unique and lasting emotional bonds with your companion. One of the recommended activities to build bonding with your rabbit is to spend quality time with him, playing, petting him, brushing him, and giving him loving, quiet attention. Treats are a good way to get his attention, but they should not replace a daily, varied and balanced diet.

They can also be infused to create refreshing flavored water in the summer. Simply infuse 2 tablespoons of dried flowers in 500mL of fresh, low-calcium water for 2 to 3 hours to release the aromas and nutrients. This can be especially beneficial on hot summer days , providing a healthy way to motivate our bunnies to stay well hydrated !

Note: Be sure to monitor your rabbit's water intake several times a day, and offer him fresh, unflavoured water as a priority to meet his daily hydration needs.

Composition of our "Flowery" Paw-Tea (June 2021 Edition)
Rosebuds , in addition to their beauty, are known for their beneficial properties for the digestion of rabbits. They also provide antioxidants that support their immune system.
Hibiscus , with its vibrant flowers, is not only a feast for the eyes, but also for your rabbit's palate. Hibiscus flowers are rich in powerful antioxidants, promoting cardiovascular health and making a valuable contribution to their overall well-being.
Mallow , with delicate mauve flowers, is known for its soothing and anti-inflammatory properties. It can help calm digestive irritations, promoting healthy and comfortable digestion for your furry friend.
Cornflower , with its pretty blue flowers, is both tasty and beneficial. It has soothing and anti-inflammatory properties, contributing to harmonious digestion and optimal gastrointestinal comfort.
Our flower mix offers your rabbit a variety of flavors and nutritional benefits. It is naturally rich in vitamins, antioxidants and fiber , which promotes healthy digestion, strengthens the immune system and brings a touch of happiness to every bite.
You have the opportunity to test our flowery Paw-Tea in this Lot: Toy + Hay + Flowery Paw-tea: The Trooli Salad
Net weight: 50g

Complementary food for rabbits and guinea pigs .
Composition: Rose Buds, Hibiscus*, Mallow and Cornflower Petals. (*biological)
Origin: France, Morocco, and Germany
Packaging:

Kraft bag,

By us, in France.
Share
Voir tous les détails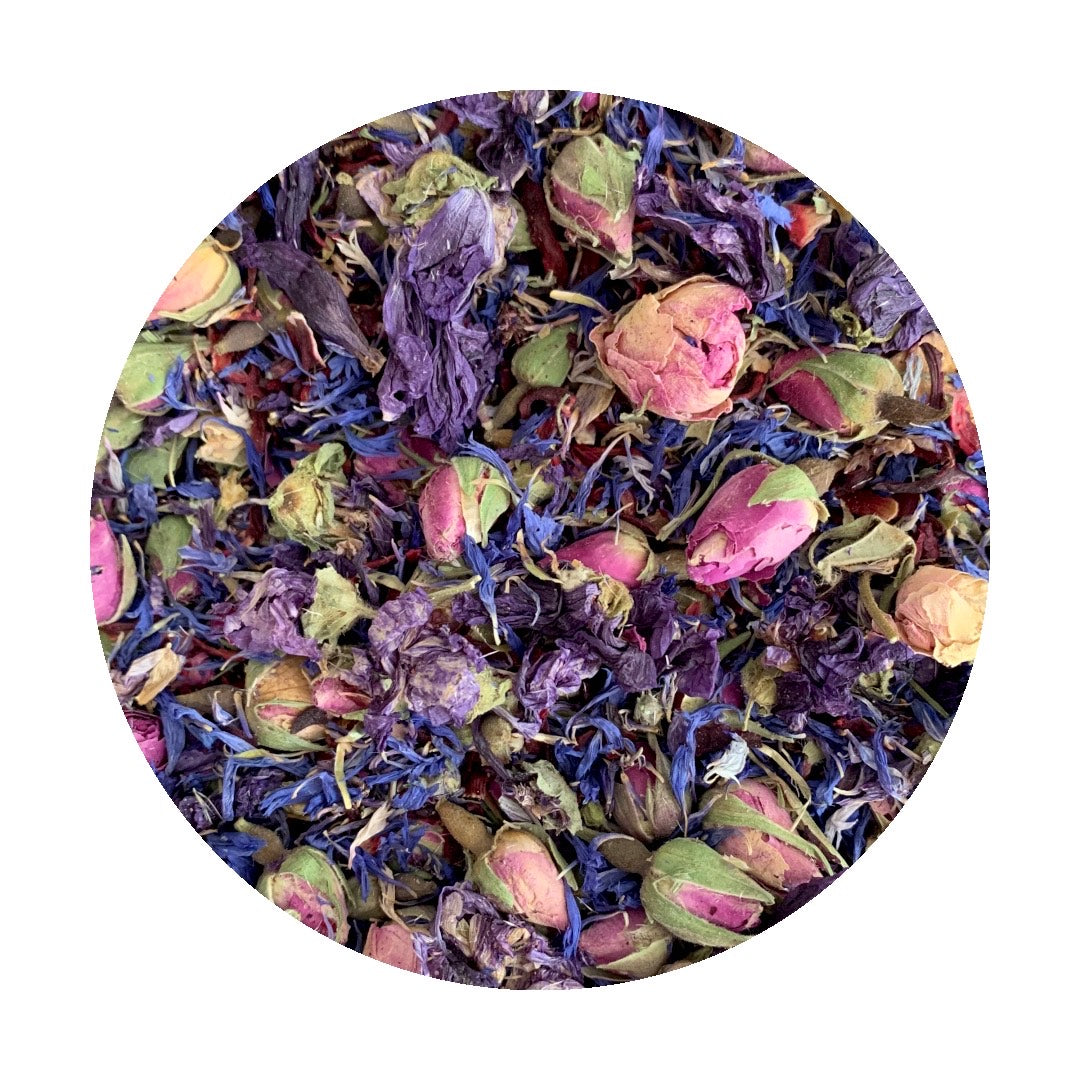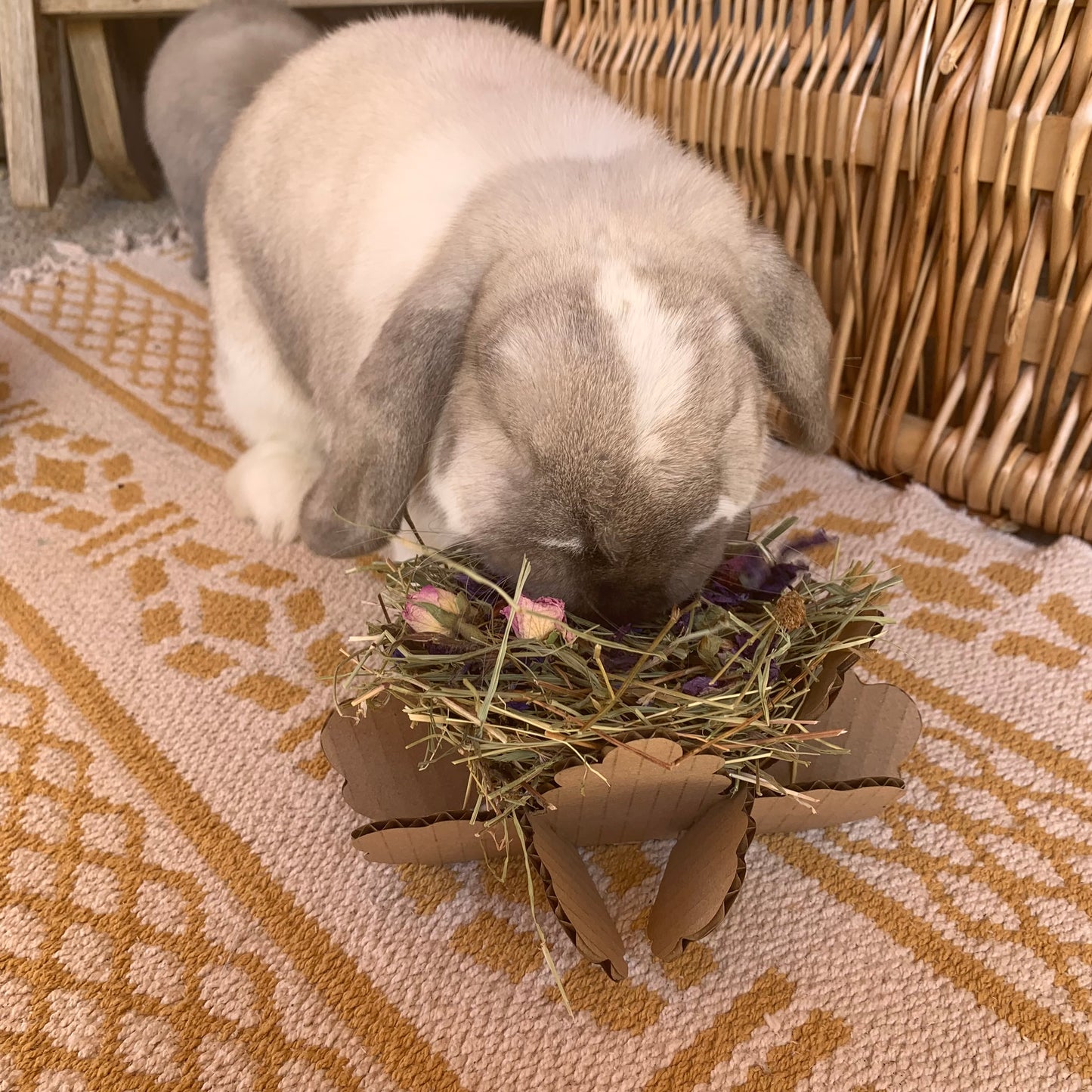 Détails
Recommended weekly dose*

Discover our products with the company of our adorable 21 cm plush rabbit, which gives you an accurate idea of ​​the size of our packaging of bulk products, accessories and toys. (Similar to a 1.2Kg rabbit)

It is recommended not to distribute more than 5g of treats per kilo of body weight of your animal, and per week.
Of course, any type of candy containing fruit confused.

For example, for a 1kg500 Rabbit, the weekly dose* will be 7.5g of treats.

(*Weekly: per week.)

This indicative dose is based on the recommended daily intake for a healthy rabbit over 6 months old.

We also advise you not to give fruit treats to rabbits under 6 months old.
Recommendations

Clean, fresh water and fresh quality hay should be available to your rabbit at all times. It is important to remember that treats should never be given to a rabbit that is not in good health (always seek the advice of your veterinarian) and that they should never be used to replace a balanced and suitable diet. your pet's nutritional needs.

Treats should be given in moderation and in addition to a basic healthy diet to ensure your pet's health and well-being. Our recommendations never dispense with the advice of your NAC specialist veterinarian.

In addition, it is recommended that you do not leave your pet alone unattended with treats, toys and accessories to avoid any risk of suffocation or accident.
Preservation and Storage

For optimal conservation, we advise you to follow the following instructions:

Store products in a cool, dry place away from direct sunlight.

Ideally between 15°C and 18°C.

Avoid exposing them to heat, humidity or extreme temperatures, as this can accelerate the deterioration of product quality and promote the growth of bacteria.

To ensure extended shelf life, we recommend transferring products to a fully airtight container once opened.
Date of Minimum Durability

Artisanal treats and products prepared by us: from 6 months to 1 year. See MDD* (Minimum Durability Date) on the labels on the back of the products.

(*Definition MDD or Date of Minimum Durability : corresponds to the date until which a food retains its organoleptic (taste, texture, etc.) and nutritional properties under normal storage conditions. After this date, the food can still be consumed, but its quality may gradually deteriorate. Not to be confused with The DLC, or Use By Date, corresponds to the date until which a food can be consumed in complete safety.)

Our products are dehydrated, those of our suppliers can also be freeze-dried, if you correctly follow the conservation and storage advice. All the conditions are met for optimal conservation.

If you encounter any problem upon receipt of your package, please go to our FAQ for a quick and appropriate response to your problem/question, please contact us via the contact form available at the bottom of the page, before opening the products.
Packaging recycling and composting

It is important to follow the instructions on the labels on the back of the products for recycling and composting the packaging of our treats . Or failing that, you can also find them on our product sheets accessible on our website: www.therabbitspawty.com

We only use reusable, recyclable and compostable packaging to minimize our impact on the environment.

By recycling and composting packaging according to instructions, you can help reduce waste and help the environment.
Disclaimer

Please note that we are not responsible for how our products are purchased, used and stored. You are responsible for your animal and we cannot be held liable in any way.

All information regarding pet items and usage tips on www.TheRabbitsPawty.com is for informational purposes only and cannot replace a visit to a veterinarian.

Advice from www.TheRabbitsPawty.com should be taken as guidance only, and not as suitable for all animals.

For information on how to care for and treat your pet properly, please contact a qualified NAC veterinarian.
Terms of Use for The Rabbit's Pawty Product Names and Photos, Customer Copyright and Ownership.

Any use of the name of The Rabbit's Pawty, texts, articles, content, publications on the website or social networks, the names of our products or photos of The Rabbit's Pawty without prior authorization is prohibited. Legal action will be taken against the authors if these conditions are not respected.

Article L113-1
Creation Law 92-597 1992-07-01 annex JORF July 3, 1992
Authorship belongs, unless proven otherwise, to the person or persons under whose name the work is disclosed.

The photos taken by our customers remain the sole property of our customers, they are displayed on the product pages for entertainment purposes only, the photos have been individually requested before each use and distribution on www. TheRabbitsPawty.com, and brand social media.
Customers remain free to request the removal or modification of the photos used by contacting us via the contact form available on our FAQ page.