Prix ​​habituel
Prix ​​en promotion
$13.99
Prix ​​unitaire
par
Promo
Sold out
Le Paw-Tea Pomme d'Hoppy
Découvrez nos Paw-Tea's, des mélanges de fleurs séchées, de feuilles, de fruits, de légumes, d'herbes aromatiques et de racines, délicieux et nutritifs pour votre lapin.
Créée en 2018, notre gamme de Paw-Tea's a rencontré un franc succès. Parce qu'eux aussi attendent avec impatience l'heure du thé !
Composés d'ingrédients de haute qualité soigneusement sélectionnés, nos mélanges offrent une variété de bienfaits pour la santé et le bien-être de nos compagnons.
Ces mélanges peuvent être distribués comme friandises à votre lapin, à raison de 2 cuillères à café par semaine, ce qui est parfait pour le bonding* directement dans votre main, dans une coupelle, dans un jouet, directement sur son foin, ou sur un tapis de fouille pour le stimuler mentalement pendant un bon moment (Tapis de fouille : à venir sur la boutique).

*Bonding : Développez une relation solide et profonde avec votre lapin grâce au bonding, ou "renforcement des liens" en français. Cette pratique spéciale vous permettra de tisser des liens affectifs uniques et durables avec votre compagnon. L'une des activités recommandées pour renforcer le bonding avec votre lapin est de passer du temps de qualité avec lui : jouer, le caresser, le brosser, et lui offrir une attention aimante et calme. Les friandises sont un bon moyen de capter son attention, mais elles ne doivent pas remplacer une alimentation quotidienne variée et équilibrée.

S'ils ne contiennent pas de fruits et légumes déshydratés, ils peuvent également être infusés pour créer une eau aromatisée rafraîchissante en été. Il suffit de laisser infuser 2 cuillères à soupe dans 500 mL d'eau fraîche, pauvre en calcium, pendant 2 à 3 heures pour libérer les arômes et les nutriments. Cela peut être particulièrement bénéfique pendant les jours chauds de l'été, offrant un moyen sain de motiver nos lapins à rester bien hydratés !
Note : Assurez-vous de surveiller la consommation d'eau de votre lapin plusieurs fois par jour et de lui proposer prioritairement de l'eau fraîche sans aromatisation pour répondre à ses besoins d'hydratation quotidiens
Composition de notre Paw-Tea "Pomme d'Hoppy"
Les fleurs de Calendula, avec leurs couleurs vibrantes, sont non seulement un régal pour les yeux, mais aussi pour le palais de votre lapin. Elles sont riches en antioxydants puissants, favorisant la santé cardiovasculaire et apportant une contribution précieuse à leur bien-être général.
Les fleurs de Mauve, aux délicates teintes violettes et vertes, sont reconnues pour leurs propriétés apaisantes et anti-inflammatoires. Elles peuvent aider à calmer les irritations digestives, favorisant ainsi une digestion saine et confortable pour votre lapin.
Les feuilles de Framboisier, avec leurs saveurs délicieuses, sont également bénéfiques. Elles sont riches en nutriments essentiels et peuvent contribuer à soutenir la santé digestive de votre lapin.
Le Persil*, avec sa couleur éclatante et sa texture croquante, est une excellente source de vitamines et de minéraux essentiels. Il peut aider à renforcer le système immunitaire de votre lapin et à favoriser une digestion saine. (*Veuillez noter qu'il ne doit pas être distribué aux lapines allaitantes et gestantes car il coupe la lactation.)
La Pomme déshydratée, avec son goût sucré, est une source de fibres naturelles et de nutriments. Elle peut être un ajout délicieux et sain à l'alimentation de votre lapin, contribuant ainsi à son bien-être général. En plus de leur fraîcheur et de leur qualité, nos pommes sont préparées par nos soins et proviennent d'un verger non loin de notre atelier.
Poids net : 80gr

Aliment complémentaire destiné aux lapins et cochons d'Inde.
Composition : Pomme déshydratée, fleur de Calendula*, fleur de Mauve, Persil et feuille de Framboisier* (*biologique)
Origine : France
Conditionnement : Par nos soins en France, dans une cup XXL 100

% recyclable.
Share
Voir tous les détails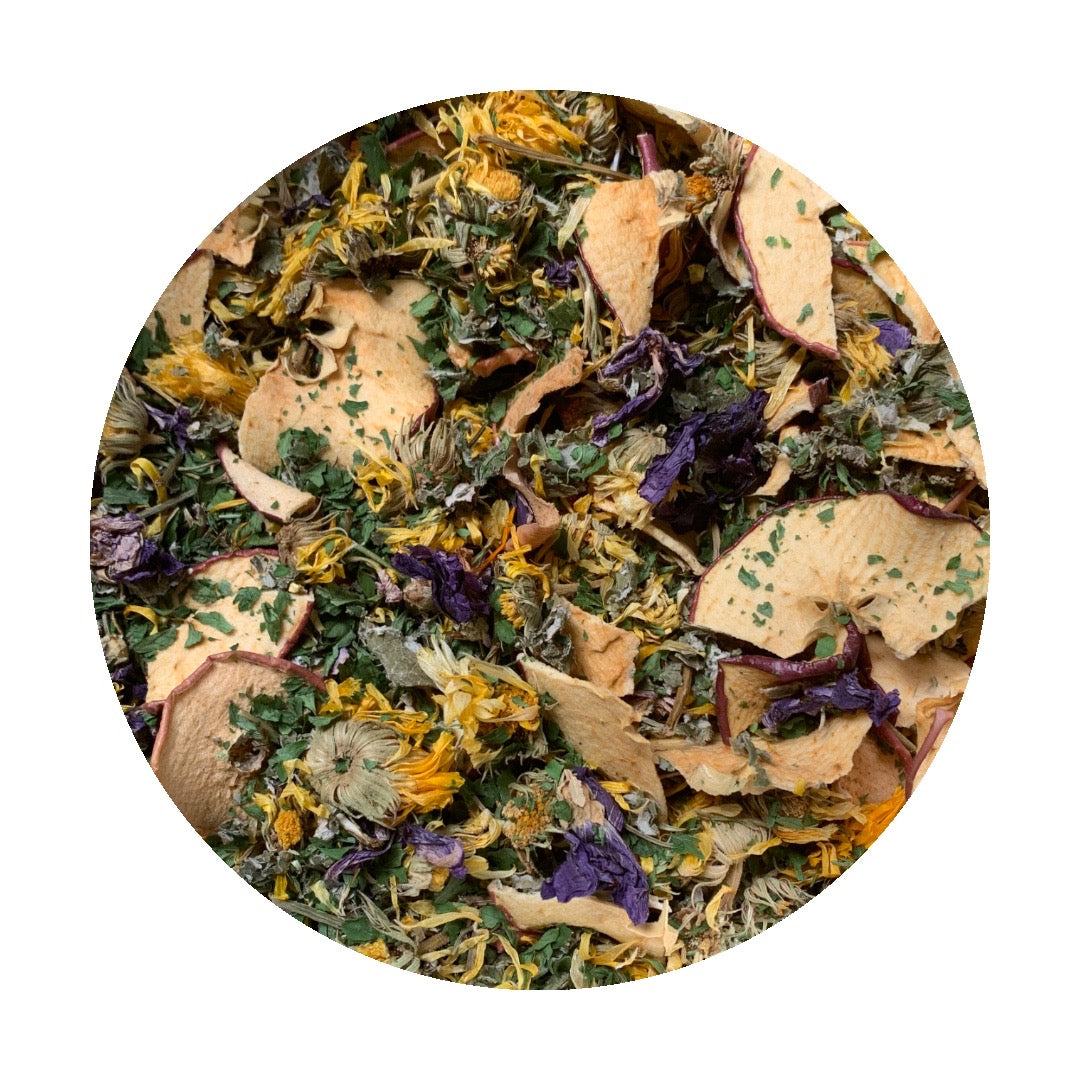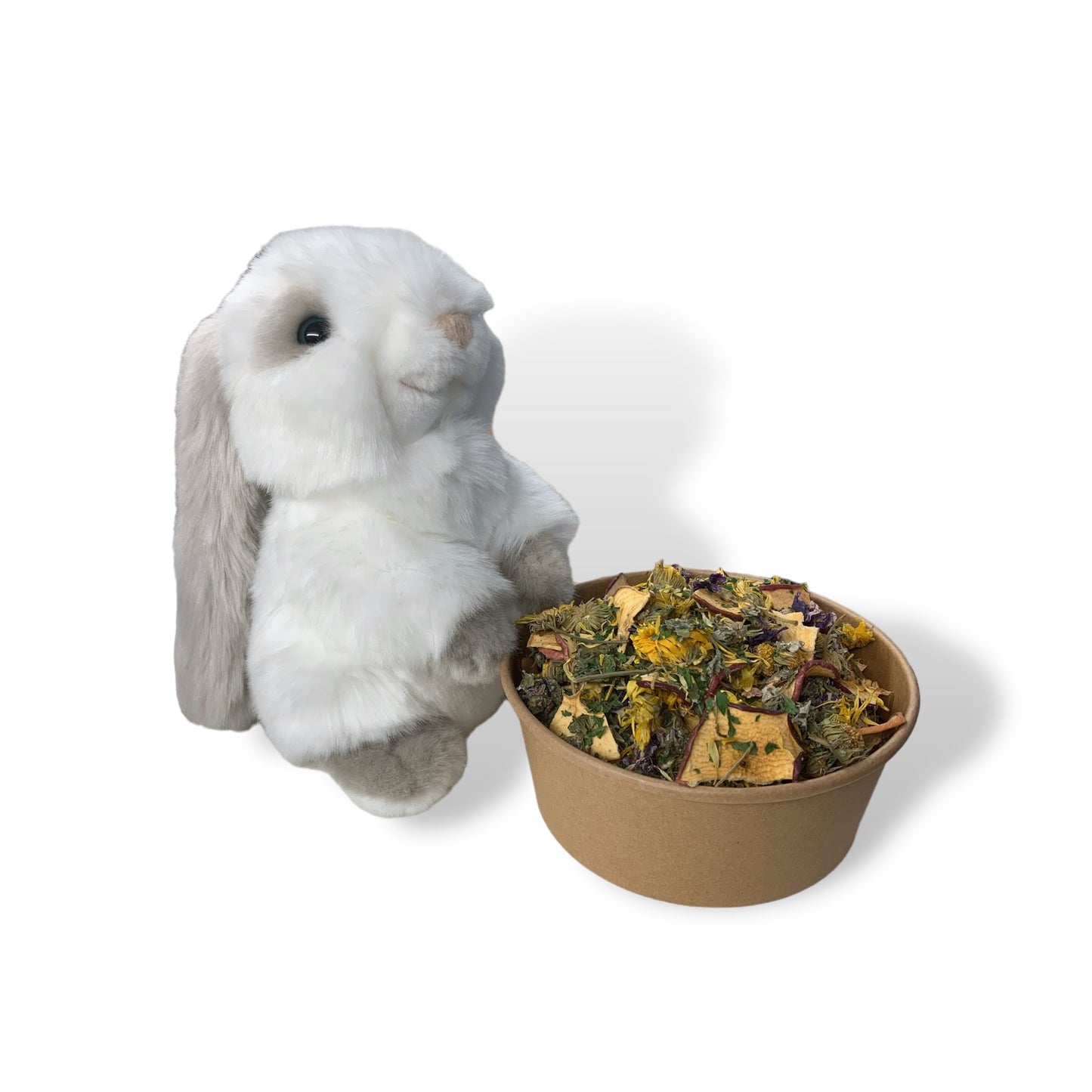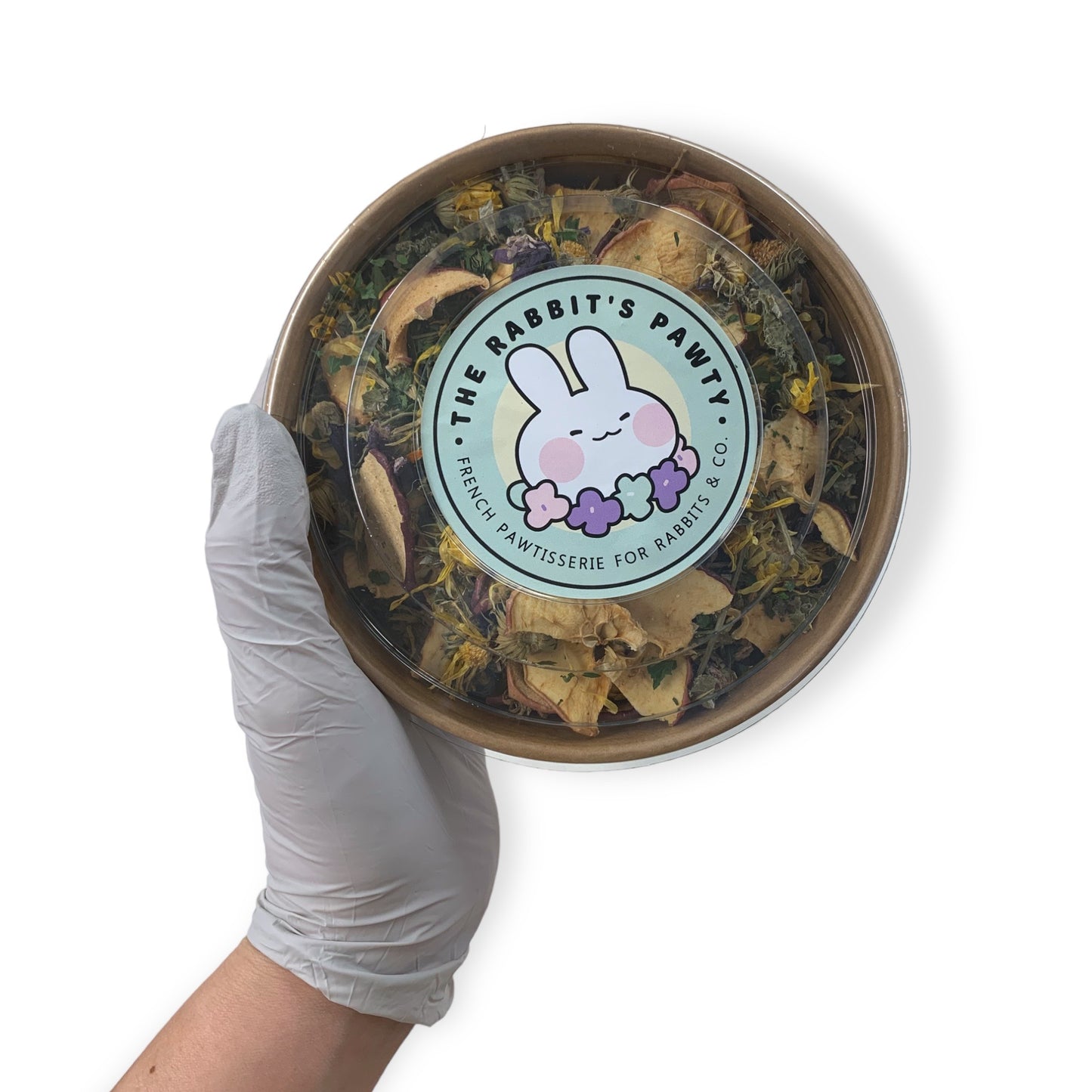 Détails
Recommended weekly dose*

Discover our products with the company of our adorable 21 cm plush rabbit, which gives you an accurate idea of ​​the size of our packaging of bulk products, accessories and toys. (Similar to a 1.2Kg rabbit)

It is recommended not to distribute more than 5g of treats per kilo of body weight of your animal, and per week.
Of course, any type of candy containing fruit confused.

For example, for a 1kg500 Rabbit, the weekly dose* will be 7.5g of treats.

(*Weekly: per week.)

This indicative dose is based on the recommended daily intake for a healthy rabbit over 6 months old.

We also advise you not to give fruit treats to rabbits under 6 months old.
Recommendations

Clean, fresh water and fresh quality hay should be available to your rabbit at all times. It is important to remember that treats should never be given to a rabbit that is not in good health (always seek the advice of your veterinarian) and that they should never be used to replace a balanced and suitable diet. your pet's nutritional needs.

Treats should be given in moderation and in addition to a basic healthy diet to ensure your pet's health and well-being. Our recommendations never dispense with the advice of your NAC specialist veterinarian.

In addition, it is recommended that you do not leave your pet alone unattended with treats, toys and accessories to avoid any risk of suffocation or accident.
Preservation and Storage

For optimal conservation, we advise you to follow the following instructions:

Store products in a cool, dry place away from direct sunlight.

Ideally between 15°C and 18°C.

Avoid exposing them to heat, humidity or extreme temperatures, as this can accelerate the deterioration of product quality and promote the growth of bacteria.

To ensure extended shelf life, we recommend transferring products to a fully airtight container once opened.
Date of Minimum Durability

Artisanal treats and products prepared by us: from 6 months to 1 year. See MDD* (Minimum Durability Date) on the labels on the back of the products.

(*Definition MDD or Date of Minimum Durability : corresponds to the date until which a food retains its organoleptic (taste, texture, etc.) and nutritional properties under normal storage conditions. After this date, the food can still be consumed, but its quality may gradually deteriorate. Not to be confused with The DLC, or Use By Date, corresponds to the date until which a food can be consumed in complete safety.)

Our products are dehydrated, those of our suppliers can also be freeze-dried, if you correctly follow the conservation and storage advice. All the conditions are met for optimal conservation.

If you encounter any problem upon receipt of your package, please go to our FAQ for a quick and appropriate response to your problem/question, please contact us via the contact form available at the bottom of the page, before opening the products.
Packaging recycling and composting

It is important to follow the instructions on the labels on the back of the products for recycling and composting the packaging of our treats . Or failing that, you can also find them on our product sheets accessible on our website: www.therabbitspawty.com

We only use reusable, recyclable and compostable packaging to minimize our impact on the environment.

By recycling and composting packaging according to instructions, you can help reduce waste and help the environment.
Disclaimer

Please note that we are not responsible for how our products are purchased, used and stored. You are responsible for your animal and we cannot be held liable in any way.

All information regarding pet items and usage tips on www.TheRabbitsPawty.com is for informational purposes only and cannot replace a visit to a veterinarian.

Advice from www.TheRabbitsPawty.com should be taken as guidance only, and not as suitable for all animals.

For information on how to care for and treat your pet properly, please contact a qualified NAC veterinarian.
Terms of Use for The Rabbit's Pawty Product Names and Photos, Customer Copyright and Ownership.

Any use of the name of The Rabbit's Pawty, texts, articles, content, publications on the website or social networks, the names of our products or photos of The Rabbit's Pawty without prior authorization is prohibited. Legal action will be taken against the authors if these conditions are not respected.

Article L113-1
Creation Law 92-597 1992-07-01 annex JORF July 3, 1992
Authorship belongs, unless proven otherwise, to the person or persons under whose name the work is disclosed.

The photos taken by our customers remain the sole property of our customers, they are displayed on the product pages for entertainment purposes only, the photos have been individually requested before each use and distribution on www. TheRabbitsPawty.com, and brand social media.
Customers remain free to request the removal or modification of the photos used by contacting us via the contact form available on our FAQ page.